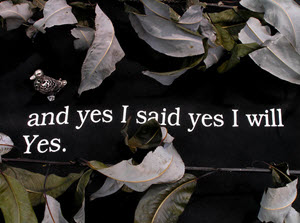 Sleep Efficiency (SE) is the percentage of total time in bed that you are actually asleep. Those with clinical insomnia usually spend more and more time in bed trying to sleep but not sleeping, and their Sleep Efficiency drops below 85%. Effective training includes sleep compression and restriction, stimulus control, and changing your thought patterns (see CBTi).
If you are satisfied with your time in bed and your sleep (like Molly Bloom who affirms herself in bed during that June day in 1904 – see the last section of Joyce's Ulysses) then sleep efficiency is not relevant. If your relationship with sleep is an unhappy one, then keeping track of non-sleeping time in bed gives good feedback on progress. Popular movement Apps on Smartphones and other devices can be helpful here.
If your Sleep Efficiency is above 85%, but you get less than 7 hours total sleep and feel tired, then the problem is likely a SleepWakeLife issue – although certain sleep disorders may be considered.
Molly Bloom was not Sleep Efficient, but that was okay for her.